Introduction
Websites for online classified ads have ingrained themselves into our daily lives. They aid in our employment search, service search, and purchase and sale of goods. With so many advantages available, it's critical to understand how to make the most of these websites.
First and foremost, it's critical to comprehend the significance of classified ads websites. These marketplaces link buyers and sellers, facilitating the purchasing and selling process more easily than in the past. You can place an advertisement and reach a large audience with just a few clicks. Second, in order to make the most of these platforms, you have to use them effectively. To do this, you need to understand their features and know how to use them. Finally, keep in mind that, although there are many classified ad websites, not all of them are created equal. You need to know which ones to use because some are more popular than others.
Let's now explore some of the most well-known online classified ads websites and their features in more detail.
Craigslist
Background and history
Craigslist is the world's oldest and most well-known website for online classified ads. The website was first developed in 1995 by Craig Newmark to help people locate housing, employment, and other services in San Francisco. Currently, Craigslist is available in more than 700 cities throughout 70 countries, and it receives 20 billion monthly visits in addition to over 50 billion page views.
Features and advantages
Craigslist lets users post and view classified ads for free. Its user-friendly interface makes it easy for users to search for anything they want. Apart from classified ads, other categories on the platform include personal ads, housing, services, and job postings. Another feature that ensures a trustworthy and safe experience for users is the community-moderated flagging system.
The business model of Craigslist
In contrast to other online classified ad platforms, Craigslist generates revenue from its job posting segment and, in certain locations, from the sale of apartment rental advertisements. Additionally, the platform levies fees for extra services like ticket sales and recruitment.
Pros and cons
Craigslist's reach, user-friendly interface, and variety of categories are its main pros. The platform has, however, also come under fire for its antiquated layout, poor customer support, and gaps that let illicit activity take place. Craigslist is still one of the best options for those searching for online classified advertisements, in spite of these disadvantages.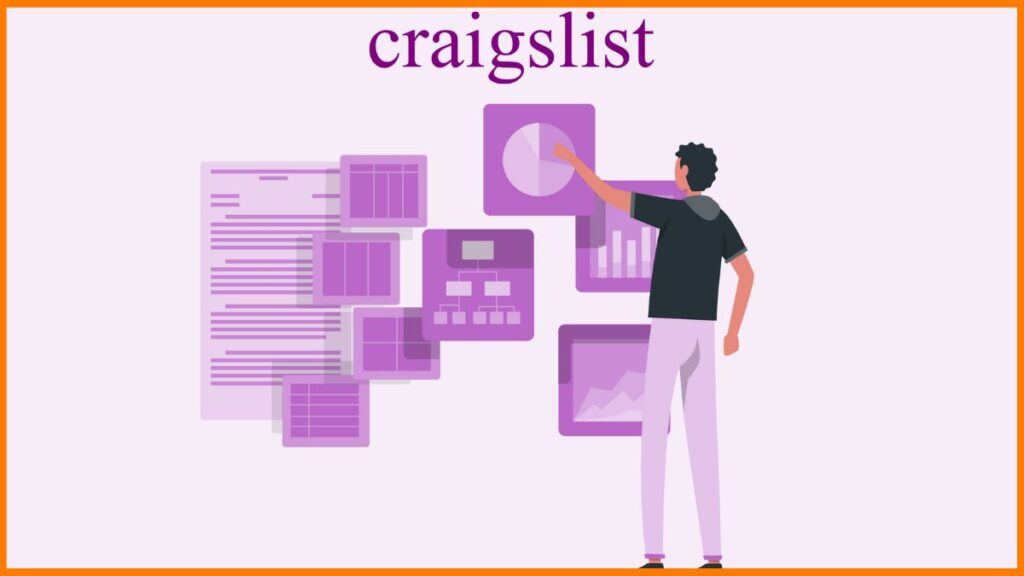 A visual Representation of Craigslist
Oodle
Located in San Mateo, California, Craig Donato established the classified advertisement website Oodle in 2004. This website is well-known for allowing vendors to submit their listings on Facebook Marketplace through a partnership. Users may easily explore Oodle and search for various types of classified advertising thanks to its user-friendly layout.
Oodle's broad range of categories—which include, among other things, job postings, rents, pets, and objects for sale—contributes to its popularity. Finding the ideal good or service is made easier for users by the ability to limit search results based on distance, price range, and date posted.
Oodle Popularity
Oodle's popularity can also be attributed to its integration with social media sites such as Facebook, which expands the listings' visibility and reach. Users of Oodle can also choose to receive email alerts whenever new listings that fit their search parameters are added.
Advantages and Disadvantages
Like any website, Oodle has its pros and cons. Its affiliation with Facebook Marketplace allows it to potentially reach a wider audience. Other pros include its user-friendly design and simple search filters, which make it an easy platform for buying and selling goods and services.
Unfortunately, Oodle's limited reach and prospective user base result from its failure to achieve the same degree of popularity as its rivals, Craigslist or Gumtree. Furthermore, a few users claim to have come across spam or fake listings on the platform, which erodes confidence in the online directory.
Overall, because of its Facebook Marketplace integration and user-friendly interface, Oodle is a strong competitor in the classified advertisement market. It still has space to develop, though, in order to compete with its more seasoned competitors.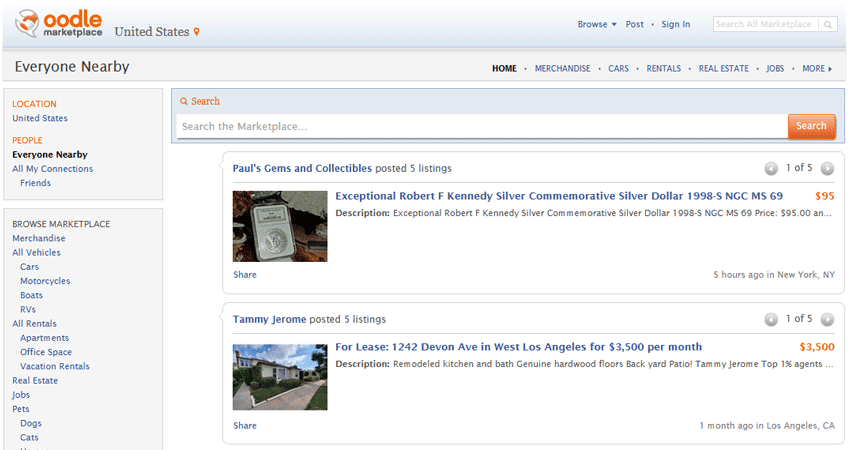 A visual Representation of Oodle Website
Gumtree
It's probable that you've heard of Gumtree if you live in the UK. Since its founding in London in 2000, Gumtree has grown to become a global online marketplace for classified ads. With more than 1.8 million ads available at any given moment, it's one of the most widely used classified websites in the UK.
One of Gumtree's primary features is its easy-to-use design, which allows users to list items for sale and register accounts quickly. It also provides rapid location-based searches.
Gumtree's primary revenue stream is providing people with free classified advertisements. This implies that there are no costs associated with posting products for sale by anyone. Gumtree does, however, provide choices for sponsored advertising for companies and agencies seeking more marketing features.
Like all classified ads websites, Gumtree has advantages and disadvantages. Positively, it offers a fantastic opportunity to earn more money and declutter. But because Gumtree is free, there are a lot of sketchy people who might try to con you or lowball you. It's crucial to use caution while interacting with any user on the website.
In general, Gumtree is a fantastic choice for UK citizens wishing to purchase or sell goods online. Gumtree has gained a household name in the UK with its user-friendly interface and free classified listings.
A visual Representation of Gumtree Logo
Oeads
This website is gradually gaining traction in the classified advertisement market, despite the well-known names Craigslist, Gumtree, Oodle, and OLX. Oeads established itself in 2015, initially focusing on the Austrian market. Since then, it has grown to include Germany, Switzerland, and the United Kingdom.
Oeads user-friendly interface, which enables users to submit advertising fast and effortlessly, is one of the factors contributing to its growing popularity. Not to mention that using it is free, which is always a benefit. Oeads stands out, though, because of its focused advertising strategy. It is easier for potential purchasers to find the advertising when users select the location or region in which they want it to appear.
Disadvantages and Drawbacks
Of course, Oeads has drawbacks as well, being the underdog. Among these issues is its narrow audience compared to industry heavyweights like Gumtree and Craigslist. Even though Oeads finds wide usage in nations like Germany and Austria, it lacks the same level of recognition elsewhere in the world. It can also have fewer users than the other well-established websites because it is a newer player in the game.
Nevertheless, Oeads presents a welcome substitute for the well-known classified ads websites. It's an excellent alternative for anyone who wants to place advertising in the nations it operates in because of its user-friendly design and emphasis on targeting certain locations. Give Oeads a try if you're in Austria, Germany, Switzerland, or the UK; you might just find what you're looking for!
A visual Representation of Oeads website
OLX
OLX began as an online classified ad platform in 2006 and now operates in over 90 countries. It is currently among the biggest online markets for purchasing and selling products and services. The goal of the website is to provide a marketplace where users can easily purchase and sell goods.
The site has gained popularity and credibility for online buying and selling because of its extensive category selection and easy-to-use layout. OLX provides coverage for a variety of items, including pets, home appliances, and cars.
The benefit of using OLX is that placing ads is hassle-free and completely free. It's also a great place to find a deal because it provides you with access to a large pool of possible buyers and sellers.
One of OLX's main benefits is its safe payment mechanism. After you and the buyer agree on a price, the website retains the money until someone delivers and accepts the item, at which time it releases the funds.
Like every other platform, OLX is not without its shortcomings. The most significant of these is the frequency of fraud, a prevalent issue on most internet markets. Before proceeding with any transaction, exercise caution and make sure the buyer or seller is who they say they are.
To sum up, OLX has advanced significantly since its inception and now holds a prominent position in the online marketplace industry. It is the go-to website for anyone wishing to purchase or sell goods and services online because of its user-friendly platform, large selection of categories, and safe payment mechanism.
A visual Representation of OLX Logo
Conclusion
In conclusion, online classified ad platforms are here to stay and have grown in popularity over the years as a means of advertising. Some of the best online classified ads websites are Craigslist, Gumtree, Oodle, Oeads and OLX. You can utilize these platforms to advertise your goods and services.
It's important to select the website that best meets your demands because each of these offers advantages and disadvantages. For instance, eBay Classifieds is the best place to sell things online, but Craigslist is great for local advertising. In Europe and other regions of the world, people like Gumtree and OLX, and they choose Oodle as a popular option for classified advertisements in the adult sector.
Because of social media and mobile technology, online classified ad websites have a bright future. It is vital to monitor these market trends and make the necessary adjustments as a result.
To sum up,
I advise you to experiment with various online classified ad platforms in order to determine which one best suits your needs. You may utilize these websites to market your goods and services and reach a wider audience if you put in a little study and perseverance.
FAQs
Are advertisements posted on these websites free to use?
A lot of these websites allow you to publish ads for free, but in order to increase the visibility of your ads, they could also provide premium services or sponsored promotions.
Can I use these platforms to sell both new and old goods?
These online classified ad services allow you to sell both new and old goods. They serve a variety of markets, offering both new and used products.
Are job postings allowed on these websites?
The majority of these platforms permit posting job openings. They make it simple for companies and job seekers to connect by having distinct categories for job advertising
Is it possible to look up advertising using my location?
It is possible to look for ads according to your location. Users can narrow down search results by city, area, or distance from their current location on the majority of online classified advertisement websites.
Which are the top 5 classified ad websites for the internet in 2023?
Craigslist, Oeads, Oodle, Gumtree, and OLX are the 5 best classified ad websites as of 2023.